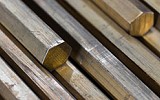 Copper alloys for free machining, hollow rod

EUROPEAN MATERIAL DESIGNATION

CuZn36Pb2As

CuZn36Pb3

CuZn37Pb2

CuZn38Pb2

CuZn39Pb2

CuZn39Pb3

CuZn40Pb2

CuZn40Mn1Pb1AlFeSn

CuZn37Mn3Al2Pb1Si

EUROPEAN CODE

Nearest national equivalent:

MODERATE/
GOOD

Hot Working Temperature (°C)

Typical mechanical properties

Typical physical properties

Modulus of elasticity (kN/mm²)

Co-efficient of linear expansion x10-6K (20-300°C)

Thermal conductivity (W/mK)

Electrical resistivity (mWm)

Electrical conductivity (%IACS)

APPLICATIONS
& CHARACTERISTICS

Dezincification
resistant brass Available with 0.1-0.06 As

American free machining and semi riveting brass

Riveting and turning brass

General purpose
machining brass for moderate bending or riveting

General purpose machining brass for limited bending or riveting

The standard high speed free machining brass

The standard Hot forging brass

General purpose high tensile brass

High strength manganese brass with silicon for enhanced wear resistance. Uses include gear -box parts and bearings.

Relevant european standards

EN 12165: Wrought and unwrought forging stock

EN 12168: Hollow rod for free machining purposes

* CuZnPb3 (CW614N) = 100%
(Source: www.bolidenbrass.com)
Ramo AB ansvarar ej för eventuella felaktigheter i ovanstående information.
Ramo AB takes no responsibility in the eventuality of errors in the above information.